New Directorship for the China Australia Writing Centre
6 Oct 2017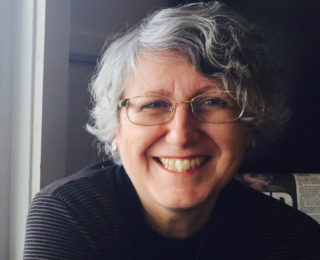 Dr Lucy Dougan has commenced her directorship of the China Australia Writing Centre. Lucy Dougan is an acclaimed Western Australian poet. Her books include Memory Shell (5 Islands Press), White Clay (Giramondo), Meanderthals (Web del Sol) and The Guardians (Giramondo), which won the WA Premier's Book Award for 2015/2016.
Since the early 1990s Lucy has been published in a range of journals both here and overseas, and has had work represented in many anthologies. She has also worked in arts administration, as a tertiary teacher of creative writing, literature and film, and as poetry editor of HEAT magazine and Axon: Creative Explorations. Her PhD, concerning representation of Naples, was awarded in 2010.
Dr Dougan hopes to build on the excellent work done by CAWC's previous director, Liz Byrski, and to run events that both deepen our significant partnership with Fudan University and bring writers from China and Australia into meaningful dialogues in both academic and more general audience contexts. Her enthusiasm for the upcoming Creative Conversations events with the ABC's Radio National, now in its second year, should ensure these hopes are met.
"There's so much wonderful writing out there that deserves a thoughtful general audience and I think we can deliver an engaging and unique program to just such an audience," Lucy told us. "This year's theme is 'Looking Forwards/Looking Back.' The threads of conversation turn around the future, the past, the child, and ageing. There will be a great mix of local, interstate and international guests."
Asked about the role she sees creative writing playing in Australia-China cross cultural exchange, she answers, "Creative writing is a species of emotional X-ray. It's a revelation of our interiors no matter the subject or style. I feel this mode brings a depth to cross-cultural exchanges and understandings."
Dr Dougan, despite apparent cultural disparities, sees significant similarities between the two countries. "We face many of the same global challenges as China – environmental devastation, coal dependence, and rapidly ageing populations. The work of our imaginations has something to offer – another dimension – to how we will face these challenges, and to how we will evolve."
CAWC will host a number of Chinese and Australian writers and academics in the second half of 2017, and in addition to Creative Conversations, have several other events and publications in the pipeline that will be announced in the coming weeks.